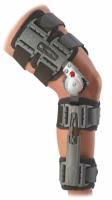 The X-Act ROM is remarkably quick and easy to apply, allowing efficient use of OR time. The anti-migration foam and dynamic suspension frame naturally contour this lightweight brace to the patient's leg, providing a precise fit after surgery.

TROM offers state-of-the art range-of-motion control and locking capabilities. Only TROM allows flexion and extension adjustments at the touch of a button and a quick lock from 0° to 90° in 10° increments. The ease of use and versatility of the TROM can support a variety of protocols following major ligament surgery, meniscal repairs, patella realignment, regenerative chondroplasty and stable femoral fractures.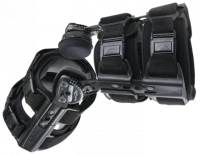 Create the optimal knee off-load with just a few turns. TROM Adjuster is the first post-op brace to offer controlled and consistent off-loading to create a better healing environment. Using our successful TROM platform, TROM Adjuster represents a comprehensive post operative solution for meniscal and chondral defect procedures.