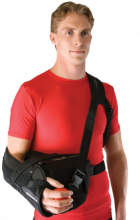 The mesh UltraSling III family provides immobilization for rotator cuff repairs, capsular shifts, Bankhart repairs, glenohumeral dislocations/subluxation and soft tissue repairs/strains.
Maintains the shoulder and arm in an externally rotated position.
Moisture wicking mesh fabric for greater comfort, particularly in longer term use.
15° and 30° versions to suit your protocol.
De-Rotation shoulder strap to keep product in place.
Quick release buckles make it easy to take on and off for exercise/therapy.