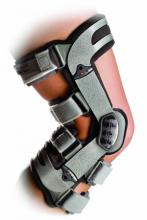 The improved OA Adjuster 3 is powered by nano MAG technology and reinforced with a tough aluminum frame, making it the most durable and functional DonJoy OA knee brace.
Indications:
Osteoarthritis of the knee
Ordering Information:
For more information, or to schedule an appointment with one of our ABC-certified fitters, call 800-797-8744. A prescription is required for this product.